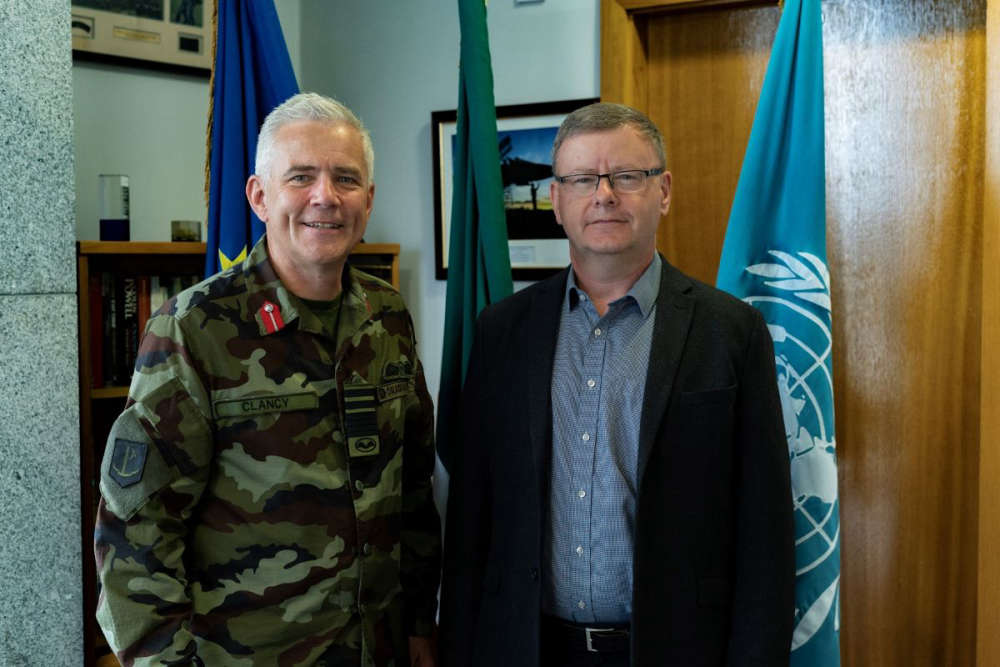 Photo Credit: @defenceforces Twitter
He grew up on the Longford Roscommon border.
The Defence Forces have appointed a new Head of Transformation.
Brian Molloy grew up on the Longford/Roscommon border and joins the Defence Forces from the Social Welfare Appeals Office where he worked as the Chief Appeals Officer and Director.
He had operational and strategic responsibilities for the appeals function across the Department of Social Protection.
In his new role, Mr. Molloy will be a member of the senior Defence Forces leadership and management team and the Defence Strategic Management Committee.
He will be empowered to design, lead, create, communicate and deliver on an integrated and joint vision for strategic and operational level transformations impacting all three services (Army, Air Corps and Naval Service) and their respective Reserve Forces.
Mr. Molloy will lead the delivery of challenging strategic transformation programmes across the organisation.
Mr. Molloy met with the Chief of Staff of the Defence Forces, Lieutenant General Seán Clancy, this morning.
Welcoming Mr. Molloy's new appointment, Lt. Gen Clancy said:
"we are delighted to welcome Brian to our senior management team, where his significant and varied experience will be a major asset to the Defence Forces. His new role, leading and driving the significant transformational change in the Defence Forces is necessary to ensure that now, more than ever, the Defence Forces is fit for purpose and the progression to a Defence Forces' capability, equivalent to level of ambition two, is the first step on this journey."
Appointment of new Defence Forces Head of Transformation, Mr. Brian Molloy!

Mr. Molloy met with the Chief of Staff of the Defence Forces, Lieutenant General Seán Clancy, this morning. pic.twitter.com/zXeGpIcNtN

— Óglaigh na hÉireann (@defenceforces) June 7, 2023