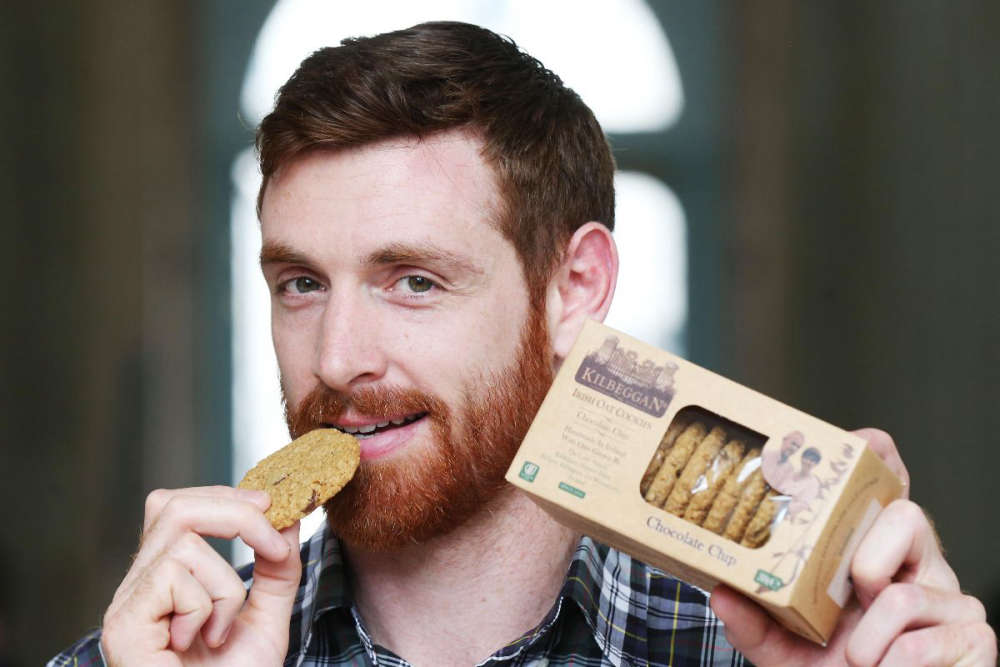 John Lalor from Kilbeggan Organic Oats
Participants will receive training in food safety, branding, sustainability and business development.
Local Enterprise Office Westmeath is inviting food and drink producers from the county to join its Food Academy programme and follow in the footsteps of local companies, such as Mo Bhia Duit and Kilbeggan Organic Foods, which have previously taken part.
Now in its ninth year, Food Academy is a unique food business development programme between the 31 Local Enterprise Offices, including Local Enterprise Office Westmeath, SuperValu and Bord Bia.
Participants in the programme receive training in food safety, market research and branding, marketing, finance, sustainability and business development.
The Food Academy programme currently supports 290 Irish food and drink producers generating €200 million in sales.
In 2020, there was a 6% growth in Food Academy product purchases at SuperValu stores with participants delivering €30 million in sales.
The Food Academy programme supports 1,500 jobs in local communities nationwide and local producers are now being encouraged to apply through their Local Enterprise Office for the 2022 programme before Friday, April 8th .
Welcoming the increase in Food Academy sales through SuperValu in 2021, Christine Charlton, Head of Enterprise with Local Enterprise Office Westmeath says;
"Since it was started up nine years ago by the Local Enterprise Offices, SuperValu and Bord Bia, the Food Academy programme has been hugely successful, going from strength to strength.
"It has helped hundreds of up-and-coming food and drink producers, like Mo Bhia Duit, Moate, and Kilbeggan Organic Foods, Kilbeggan to get their products market-ready, giving them an opportunity to sell to a nationwide audience."
She added;
"The Food Academy is part of a suite of Local Enterprise Office supports designed for food and drink entrepreneurs in Ireland, such as the Digital School of Food and Food Starter programmes, both aimed at getting those with food ideas off the ground. As local food and drink producers grow their sales through these programmes, Local Enterprise Office Westmeath is on hand to support their expansion plans through further
training, mentoring and financial assistance."
Ian Allen, Managing Director, SuperValu says;
"Food Academy, run in collaboration with Bord Bia and the Local Enterprise Offices, helps new businesses to grow and get the support they need. With Food Academy, producers are on shelves 52 weeks of the year.
"By having this guarantee of shelf space, food producers can generate regular income and ensure their businesses thrive. We have so many examples of former Food Academy producers that have gone on to fantastic success, including The Happy Pear, Pizza Sorrento and
SynerChi Kombucha.
"If you have a great idea for a food or beverage business, then this is your opportunity to sign up for Food Academy and make your dream a reality. At SuperValu, we are committed to supporting local Irish producers and we are ready and waiting to nurture new talent this year."
Gillian Willis, Small Business Development Manager, Bord Bia added;
"At Bord Bia, we focus on promoting Irish food, drink and horticulture that is produced to the highest quality standards. Food Academy provides
invaluable support to participants to get their small businesses off the ground, and to reach consumers nationwide on SuperValu shelves. This commitment as well as the support provided by Food Academy gives food producers a huge advantage when starting out. We in Bord Bia will continue to provide comprehensive market knowledge, consumer insight and branding expertise to Food Academy participants nationwide."
The Food Academy Programme is now open for applications, the subsidised cost to participate is €200 per company.
To apply, interested food and drink producers from Westmeath are encouraged to contact Local Enterprise Office Westmeath for an application form by e-mailing localenterprise@westmeathcoco.ie or by visiting LocalEnterprise.ie/Westmeath
Further information about the Food Academy, how to apply, and other Food Supports is available here.