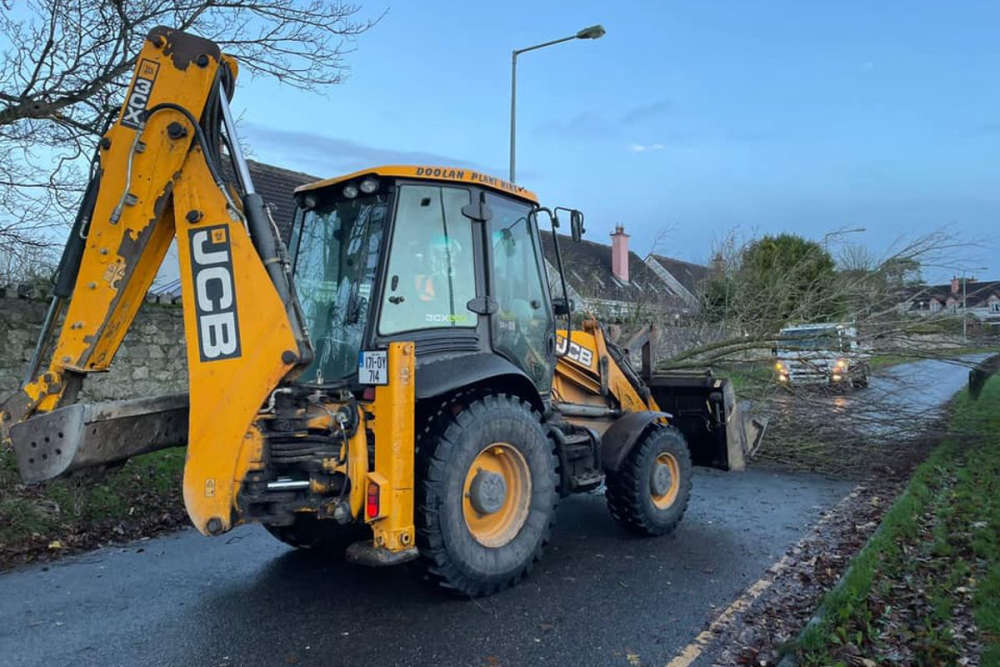 Photo credit: Facebook/@OffalyCountyCouncil
The midlands experienced very high winds and heavy rain last night.
Power @ 11.52:
The number of ESB customers affected by power outages is now down to 1,087.
Moate - 642 customers - estimated restoration time 5pm to 9.30am.
Cloghan/Lumcloon/Shannon Harbour - 332 customers - estimated restoration time 1.45pm - 4.30pm.
Rathdowney - 113 - estimated restoration time 1.30pm.
Update from Offaly County Council:
Offaly County Council's Severe Weather Team is continuing to monitor the situation and dealing with any issues which may arise.
Its three civic amenity centres are open today; however they continue to monitor the weather conditions and may need to close them in the interests of safety at short notice.
Their contact number for reporting issues such as fallen trees, flooding and road damage is 0579346800 or out of hours 1800 15 15 15.
For any water disruption, you're asked to contact Irish Water on 1850 278 278.
Roads @ 9.01:
There are fallen wires in Geashill, between Ard and Kilcavan.
A tree is down on the road between Ballyfine and Mountrath, near Coogan Plant Hire. The road is partially blocked.
Another tree has fallen between Rahan and Tullamore.
Other reports from Offaly include lots of debris in Rahan, at Tullamore Rugby Club in Spollanstown, and near the wind farm in Clonbullogue.
There are also branches down between Tullamore and Clara.
Read more advice here - Keep Your Phone Charged And Check In On Vulnerable Neighbours
Power @ 8.54:
Storm Barra has seen severe winds and heavy rain continue to batter the midlands overnight.
Almost 1,700 homes and businesses remain without power this morning across Laois, Offaly and Westmeath.
Moate, Cloghan, Ballinderry and Rathdowney are all experiencing issues.
Moate - 673
Cloghan - 496
Ballinderry - 250
Rathdowney - 113
ESB Networks #StormBarra Update: Further high winds overnight leaves 59K homes, farms and businesses without power. Visit https://t.co/EU6R9nRfwR for restoration times. Apologies for inconvenience. https://t.co/iEdLAEZg7q pic.twitter.com/VVT5ygDZqy

— ESB Networks (@ESBNetworks) December 8, 2021
Here's what the ESB have had to say on the issues:
We are advising all those impacted by outages that they should prepare to be without electricity overnight and into tomorrow, with some customers potentially without power beyond that. It is very important that any customers who use electrically powered medical devices to contact their healthcare professional to make alternative arrangements if necessary.
ESB Networks crews will deploy again before first light tomorrow to continue restoration works as weather warnings and conditions on the ground enable safe working.
ESB Networks reminds the public that if you come across fallen wires or damaged electricity network, never, ever touch or approach these as they are LIVE and extremely dangerous
ESB Networks is reminding customers of the precautionary measures to take in the event of a power cut:
Stay Safe, Stay Clear: Never approach broken lines or damaged poles, and keep children and animals away – report damage to ESB Networks at 1800 372 999 and listen to recorded messages carefully
Turn off electric cookers, ovens, irons, etc. if electricity supply is lost
Leave a light switched on so you know when power has been restored
Take extra care if using candles, oil lamps or other naked flames
Test smoke alarms with fresh batteries
Ensure adequate ventilation if using gas heaters.
#StormBarra brought some damaging gusts to Ireland today, here are the highest maximum gusts for Tuesday 7/12/2021. 🍃🌬️ pic.twitter.com/uq9RCFHKzD

— Met Éireann (@MetEireann) December 8, 2021
A yellow warning remains in place for the midlands until 6pm this evening. With the highest gusts reported in the region overnight coming in Mullingar at 91kmph.
Spokesperson for ESB Networks, Siobhan Wynne, says crews will resume work this morning to restore services:
Trees @ 7.30:
There are a number of fallen trees in the region this morning.
Motorists are reporting a tree down between Ballyfin and Mountrath, while another is on the road between Rahan and Tullamore.
Colleges:
TUS are again advising students and staff of their Athlone camps not to travel from affected areas, even if doing so for examinations.
They say contingencies will be put in place for those who miss an exam for this reason.
Three of their six national campuses in Limerick and Clare will remain closed.
Statement from TUS - Athlone Campus.
Three of the six campuses at the Technological University of the Shannon: Midlands Midwest (TUS) will remain closed tomorrow, Wednesday, December 8, following the advice of the Department of Further and Higher Education, Research, Innovation and Science.
The LSAD, Clare Street Campus, Limerick; Moylish Campus, Limerick; and the Ennis Campus, Co. Clare, were also closed today, Tuesday, as a result of the Red Alert and Orange warning from Met Éireann.
Athlone, Clonmel and Thurles campuses will remain open again tomorrow, Wednesday, but staff and students are asked not to travel from an affected (red or orange status) county to attend these campuses. This includes those who have assessments and exams. Contingencies will be put in place for those who cannot travel for exams due to Storm Barra.