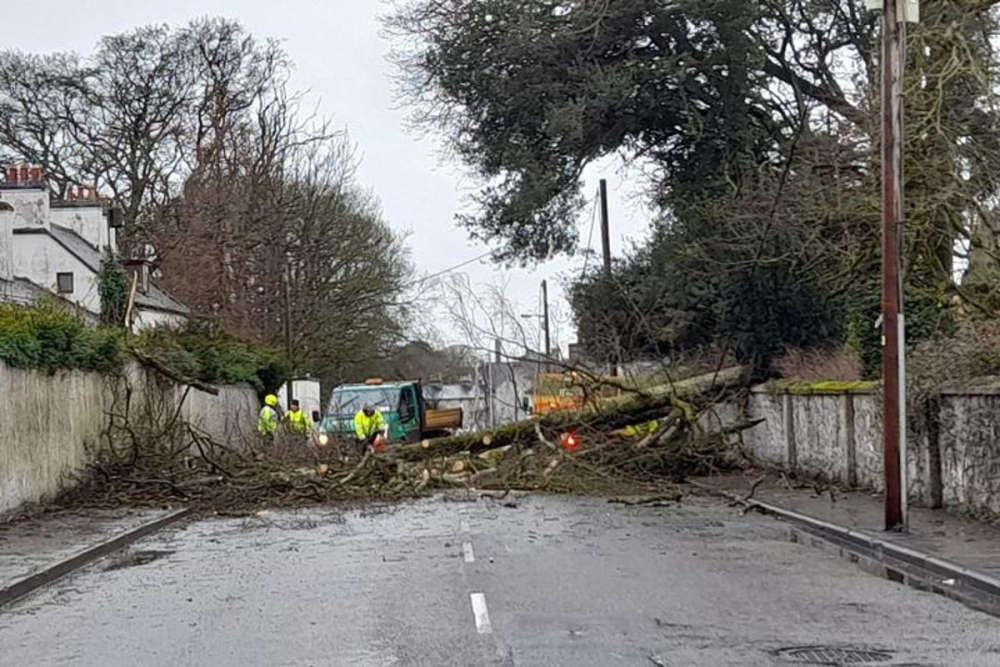 Photo credit: Facebook - Offaly Fire & Rescue Service
An orange warning remains in place for Laois and Offaly until 11am.
Power has been been restored to over 1,500 properties in Offaly.
1,754 homes and businesses in Edenderry were without power at lunchtime, the fault has been repaired for the majority of the premises but 105 customers in the area are still without electricity.
176 customers in Clonmich, Tullamore are also without power - both faults are due to be repaired by 7pm.
Meanwhile, crews are also working to restore supply to 110 premises in Mountmellick.
Motorists are also being advised to take care on the roads due to number of fallen tress.
In Offaly the Doon to Boher is closed and diversions in place and in Laois a fallen tree is blocking the Stradbally to Castlemitchell road.
Director of Services in Westmeth County Council Barry Kehoe is asking motorists to report fallen trees:
A Wexford County Council employee has been killed while clearing debris as a result of Storm Eunice.
The man was struck by a falling tree in the North Wexford area this morning after was knocked down by a strong gust of wind.
Gardaí and emergency services rushed to the scene in Ballythomas , but the county council employee was pronounced dead a short time later.
The body of the man will be removed to Waterford University Hospital where a post-mortem will take place.
Wexford County Council Council has issued a statement to confirm an employee has died in a workplace accident and that his family, Gardai and the health and safety authority have been informed.
It added that their thoughts and prayers are with the employee's family, work colleagues and friends at this very difficult time.
Longford Westmeath TD Peter Burke says the tragic news from Wexford this afternoon, highlights the critical nature of the work of our Local Authority employees on the frontline, the closest arm of the State to the citizen.
⚠️Yellow status Snow and Ice alert for all of Ireland until 10:00 on 19.02.22. Visit https://t.co/kaMp3GwIFs for more updates.#Birr, #Edenderry and #Tullamore Municipal Districts have and continue to respond to damage caused by tree falls. Please remain careful when travelling.

— Offaly County Council (@offalycoco) February 18, 2022
Power has been restored to over 500 homes in Offaly and Westmeath this morning.
Storm Eunice is moving across the country at the moment with winds of 130 kilometres an hour hit the south west this morning.
Gusts of over 50kmph have been recorded in Mullingar, while in Laois, the Ballybrophy to Rathdowney Rd is impassable due to a fallen Tree.
Alan O'Reilly from Carlow Weather says the storm has arrived:
Climate scientist and weather analyst, Rhode's Cathal Nolan says there is a disparity in conditions in different parts of the country;
A tree is blocking the road at Kilcoursey, Clara. Offaly County Council, Offaly Fire Service and ESB are at the scene.
The R436 Kilbeggan road closed at present.
Motorists are being advised to take care on the roads.
73 thousand homes and businesses are without power as a result of Storm Eunice.
Red and yellow wind warnings that were in place have now expired, but a status yellow snow and ice warning remains in effect for the whole country until tomorrow morning.
Gusts of up to 130km per hour were recorded in the south this morning, with off-shore winds reaching as fast as a 170km per hour.
ESB Networks Regional Manager Project Delivery, Siobhan Wynne, outlines where the worst of the power outages are:
Over 200 properties are without power in the midlands.
110 customers are impacted by an outage in Mountmellick - which is due to be restored after 3pm.
And 125 homes and business in the Clonminch area of Tullamore are also experiencing loss of supply - crews are working to fix the fault and the estimated time of repair is 7pm.
Westmeath County County is advising motorists to take care on the roads and to be aware of the dangers of fallen trees, debris and the possibility of spot flooding.
The local authority says anyone who come across damaged electricity wires should never approach them and to contact ESB Networks at 1800 372 999.
In Offaly, the L3007 Cloghan to Belmont Road has reopened.
A tree has fallen on the road along Heywood Demsense, Ballinakill.
The L-77974 road has been closed as a result.
Power has been restored to 176 homes in the Clonminch area.
50 homes are still without power in the Mountmellick area - which is due to be restored by 6pm.