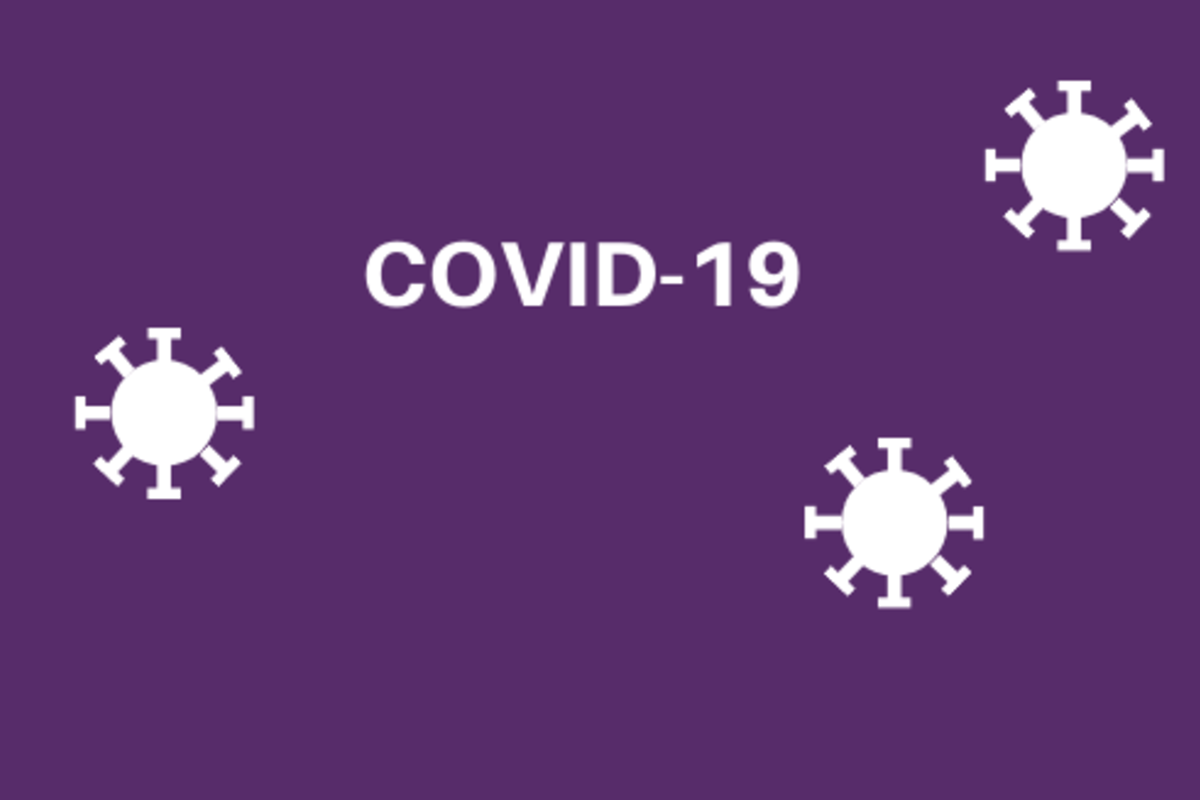 Photo credit: HPSC.ie
Live blog with the latest news.
Emergency Services:
Supermacs is offering free meals to members of the emergency services.

Bosses at the fast food chain say they want to want to show appreciation to those on the front lines of the Coronavirus outbreak.

Managing Director, Pat McDonagh, say's it's a hectic time and they want to do their bit:
North:
A County Armagh woman is launching a legal challenge over the decision to keep schools open in Northern Ireland during the covid-19 outbreak.

Her solicitors have told authorities there they will be applying for an emergency judicial review of the plan.

Phoenix Law says they'll argue keeping schools open is unlawful and infringes human rights law.
Breaking News:
There are 40 new cases of Coronavirus in Ireland - 23 males and 17 females have tested positive for COVID-19.
25 are associated with the east of the country, 9 are associated with the west and 6 are associated with the south.
There are now 169 confirmed cases in Ireland.
The HSE is now working to identify any contacts the patients may have had, to provide them with information and advice to prevent further spread.
The Government has today called on all public houses and bars (including hotel bars) to close from this evening (Sunday 15 March) until at least the 29th March.
Dr. Tony Holohan, Chief Medical Officer, Department of Health said; "In regard to upcoming St. Patrick's Day celebrations, the Government is calling on all members of the public not to organise or participate in any parties in private house or other venues which would put other peoples lives at risk.
"Everyone is asked to reduce their social contact over this time period. House parties/ COVID parties carry the same risks as being in a pub/club, therefore people should not organise or attend them. The virus is now in our community, it is up to us to limit its spread,
"Now is the time for action and to heed the public health advise we will continue to provide."
Rachel Kenna, Deputy Chief Nurse, Department of Health, said; "Healthcare workers across the service are working under extraordinary conditions, preparing for the potential impact of COVID-19.
"If all citizens work together and comply with social distancing guidelines, and other measures the Government may take in the coming weeks, we will have a stronger response to this virus. Help our healthcare workers in their task. "
The National Public Health Emergency Team will meet on Monday to continue its review of Ireland's ongoing preparedness to COVID-19.
Travel
Irish tourists in Spain are being asked to get home by midnight on Thursday.

Minister for Foreign Affairs Simon Coveney says there's an "orderly plan" involving Aer Lingus and Ryanair to evacuate them.

He says both airlines are diverting bigger planes to routes from the Spanish mainland, the Balaeric Islands and the Canaries.

Booking and seat fees are being waived to help with the effort.
Pubs:
All pubs in the country are being asked to shut their doors for the next two weeks.

The government says it's after reports of "reckless" behaviour by the public at licenced premises last night.

The Licenced Vintners' Association and the Vintners' Federation of Ireland are backing the government's call.

We're also being strongly advised not to throw house parties in the weeks ahead.

Health Minister Simon Harris made the announcement after a meeting with health officials and pub trade groups:
Hoax Messages:
The HSE says it still hasn't been decided what the next stage of this health emergency is or when it will be announced.

Hoax messages have been circulating online since the government banned mass gatherings last Thursday.

The messages have caused many people to suffer increased anxiety.

CEO of the HSE Paul Reid says officials have been in constant communication with the public and these messages are not helpful
UK:
In the UK, fourteen more people have died after testing positive for the coronavirus - bringing the total to 35.

More than 1,300 people across Britain have tested positive - including 45 in Northern Ireland.
Thank you to everyone working so hard in our health service and beyond this weekend and all the work they will do in the coming days and weeks. We need to support them and help them in terms of our own personal actions #coronavirus #COVID19 pic.twitter.com/R4MDuuipVK

— Simon Harris TD (@SimonHarrisTD) March 15, 2020
Social Distancing:
The Taoiseach says the government may seek new powers to stop large crowds gathering in pubs and clubs during the Coronavirus outbreak.

Leo Varadkar is insisting they have to stick to rules limiting indoor mass gatherings to 100 people.

It follows footage that emerged last night of a packed Dublin pub, which has been criticised by ministers and the head of the HSE.

129 cases of COVID-19 have been confirmed in the Republic so far, and two people have died.

Donall O'Keeffe, CEO of the Licensed Vintners Association, says it's a struggle for some pubs to follow the guidelines:
The head of the HSE has appealed for people to 'cop on and get their act together' in the fight against Covid 19.

Paul Reid tweeted this afternoon to say that some bars and people have been wreckless since social distancing began.
Unfortunately this is no longer a weekend of National celebration but one of a National Health Crisis. The public have been great to date. Some bars and people have been reckless though. To that minority, cop on, get your act together and comply with the advice @HSELive

— Paul Reid (@paulreiddublin) March 15, 2020
Chair of the COVID-19 Expert Advisory Group, Cillian De Gascun, is concerned people aren't getting the message:
Fianna Fail leader Michael Martin thinks every pub in the country should have to close on St Patrick's Day:
Groups representing the elderly say people need to 'cop on' about social distancing.

Age Action Ireland says it's not mid-term break, it's a public health emergency.

Maureen Kavanagh, the CEO of Active Retirement Ireland says she's alarmed at social media reports of packed-out pubs, and she's urging people to understand the risk they're posing to family and friends:
Jobs:
There are calls for employees who are out of work to be redeployed to essential services such as pharmacies.

Head of IBEC, Danny McCoy, says changes are needed in order for the economy to recover:
From tomorrow GPs can order tests for #COVID19 electronically through their IT system. We have also enhanced the capacity for testing. Anyone experiencing normal cold and flu-like symptoms or if you believe you may have been in contact with #COVID19 please self-isolate.

— HSE Ireland (@HSELive) March 15, 2020
Travel:
People trying to return to Ireland are being told that airlines will get them home despite a lock down in Spain and the Canary Islands.

The country's prime minister last night confirmed a two week state of emergency with people only allowed to go to work, to buy food or go to hospital.

Irish people trying to leave Spain say they are worried they might be stranded but Eoghan Corry, Editor of Travel Extra, says airlines will bring them back:
Funerals:
The Bishop of Limerick says attending funerals - if not immediate family - enters into the realms of recklessness.

He says the stakes are too high for people to be nonchalant about social gatherings, with the health system under pressure and lives on the line.

Bishop Brendan Leahy says phone-calls, texts and social media can be used to convey support, instead of handshakes and hugs.

He's asked young adults to do their part, and for families to avoid children mixing.

Bishop Leahy's also confirmed that all public masses in Limerick have been cancelled until further notice.
Enforcement:
The Taoiseach says the government may look for enforcement powers to make sure the ban on mass gatherings applies to pubs and clubs.

Leo Varadkar has also asked anyone who's been on a night out this weekend to avoid physical contact with older people or those with chronic illnesses.

There's been critcism from the HSE chief executive and politicians of a video that's emerged of people crowded into a busy Dublin pub last night.

Indoor mass gatherings of over 100 people have been banned by the government, including at pubs and clubs.
Vaccine:
A former chief scientific adviser says Britain is several months away from a vaccine.

Sir Mark Walport admits it's unlikely there will be a one for the current epidemic:
Easter:
Holy Week and Easter services in the Vatican, which normally draw tens of thousands of people, will be held without public participation due to coronavirus.

Officials say they are studying ways to hold them indoors, including St. Peter's Basilica and the Sistine Chapel, with small representative groups attending.

The main event is the Easter Sunday Mass and the Pope's twice yearly Urbi et Orbi" blessing and message from the central balcony of St. Peter's Square.
US:
Passengers returning to the US ahead of it's European travel ban, are waiting hours for compulsory medical screenings.

They're being re-directed to 13 airports in America where they're given health screenings and quarantine orders.

Videos and photos posted to social media show massive queues at Dallas, Fort Worth and Chicago's O'Hare airport.

The restrictions will affect Irish travel from 4am on Tuesday.

However US Vice President Mike Pence revealed yesterday that would be exceptions:
UK:
The UK Health Secretary says that in the coming weeks over-70s will be asked to self-isolate - potentially for months.

Matt Hancock has confirmed the growing coronavirus outbreak means "the elderly and vulnerable" would be asked to "shield themselves".

He says the government will set out when that is necessary but they don't want to act too soon:
HSE:
The HSE is asking people who have normal cold and flu like symptoms to self-isolate and to ring their GP tomorrow.

It's asking them NOT to call 112 or 999 as those numbers are for medical emergencies only.

It's working to have new electronic processes ready from tomorrow, to allow GPs to more easily order testing for patients if needed.

Chief Clinical Officer of the HSE, Dr. Colm Henry says the GP will decide then if someone needs a test:
GPs say if you're feeling poorly, you're more likely to have flu or the common cold than COVID-19.

They're asking people with normal cold or flu symptoms or to self-isolate until they can see their GP on Monday.

It's after a flood of calls to 999 and out-of-hours primary care doctors this weekend.

Dr Nuala O'Connor says the Coronavirus feels a little different to the seasonal bugs we're used to:
The number of people who've died from the Coronavirus in the Republic has risen to two.

A man in the east of the country with an underlying medical condition is the second patient to have died.

The National Public Health Emergency Team says there have been 39 new confirmed cases of COVID-19 here.

They include 29 men and 10 women.

Chair of the COVID-19 Expert Advisory Group, Cillian De Gascun says they'll prioritise those who are hospitalised with the illness:
Volunteer:
There's a call for local volunteers to support their neighbours through the Coronavirus outbreak.

Minister of State for Rural and Community Development Michael Ring is backing efforts being made by social media users in recent days.

He says local sporting groups, churches and politicians can all do their bit:
School:
Department of Health Chief Medical Officer, Dr. Tony Holohon says they'll update the public on when schools could open again as they review the situation:
Food:
Some retailers say they would prefer the Government tell them to close rather than uncertainty over the next couple of days.

Foot traffic into shops is down - however they are noticing more people shopping online.

Jean McCabe runs Willow Boutique in County Clare - she says they will try to keep open:
Teach your children how to properly wash their hands. Learn about the importance of hand hygiene with this video #ResistInfection #Coronavirus pic.twitter.com/4m4QzVbyvO

— HSE Ireland (@HSELive) March 15, 2020
Travel:
The United States has added Britain and Ireland to the list countries in Europe being hit with a travel ban.

The restrictions will come into force from from 4am on Tuesday morning Irish time.

Anyone not resident in the United States flying from Britain, Ireland, or any Schengen-area state will be turned away.

Niall Collins, Fianna Fáil spokesman on foreign affairs, says it's a drastic step for a drastic moment:
Spain:
The wife of Spain's prime minister, Pedro Sanchez, has tested positive for coronavirus.
A government spokesman says both of them are doing fine.

The country is being put into partial lockdown to try to reign in surging numbers of Covid-19 cases.

Citizens in Spain are being asked to stay at home apart from buying food or to work.