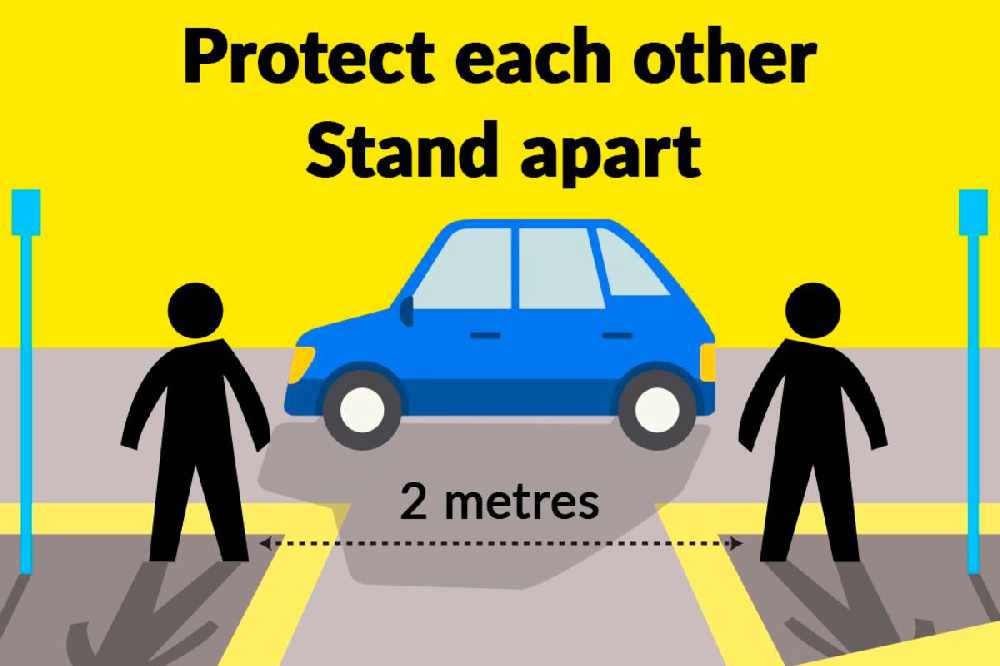 New cases reported in Laois, Offaly and Westmeath.
Latest figures:
There have been no new deaths reported to the Health Protection Surveillance Centre today.
There has been a total of 1,777 COVID-19 related deaths in Ireland.
As of midnight Wednesday 26th August, the HPSC has been notified of 93 confirmed cases of COVID-19. There is now a total of 28,453* confirmed cases of COVID-19 in Ireland.
Of the cases notified today;
52 are men / 41 are women
70% are under 45 years of age
73 are confirmed to be associated with outbreaks or are close contacts of a confirmed case
12 cases have been identified as community transmission
34 in Dublin, 7 in Kildare, 6 in Donegal, 6 in Laois, 5 in Limerick, 5 in Wexford and the remaining 30 cases are in Carlow, Cavan, Clare, Cork, Louth, Meath. Monaghan, Offaly, Tipperary, Westmeath and Wicklow.
The HSE is working to identify any contacts the patients may have had to provide them with information and advice to prevent further spread
The COVID-19 Dashboard provides up-to-date information on the key indicators of COVID-19 in the community
Dr. Ronan Glynn, Acting Chief Medical Officer, Department of Health, said; "We continue to see a slow growth of COVID-19 in Ireland.
"The most effective action we can take to reduce the transmission rate of this virus is to reduce our number of close contacts. If we do this and keep practicing the other safe behaviours by continuing to physical distance, avoid crowds, wash our hands, cover our coughs and sneezes, wear a face mask where appropriate and download the COVID Tracker app, we have a real chance of slowing the spread of the virus to where we want it to be."
Professor Philip Nolan, Chair of the NPHET Irish Epidemiological Modelling Advisory Group, said; "The R-number is now between 1 and 1.2. While this is an improvement on what we have seen recently, it is still not where we want to be. We are still seeing growing transmission of the disease and we need to bring the R-number back below 1 if we are to effectively slow the spread of COVID-19 and suppress its transmission."
Dr. John Cuddihy, Director, Health Protection Surveillance Centre, HSE said; "We are identifying outbreaks in a number of different settings such as private homes, workplaces and social settings.
"Congregated settings are ideal environments for this disease to spread between people. We all must avoid such congregations if we are going to break the chains of transmission of the virus."
Northern Ireland:
69 new cases of coronavirus have been reported in the North.
It brings the total number of cases to 6,964.
One more death has been reported in the past 24 hours.
The total number of deaths in Northern Ireland now stands at 560.
Kildare:
The National Public Health Emergency Team says it wants to see the restrictions in place in Kildare lifted as soon as possible.
It's meeting today to specifically review the local measures, which are due to remain in place until Sunday week.
22 cases of Covid-19 were confirmed in the county yesterday.
Chief Clinical Officer at the HSE and member of NPHET Dr Colm Henry says Kildare is still not in line with the rest of the country:
Care home:
Two cases of Covid-19 at a care home in Dublin have been linked to a staff member who allegedly failed to tell management she had the virus.
A number of employees have had to self isolate while another worker and an elderly resident tested positive, according to the Irish Independent.
Sinn Féin TD Louise O'Reilly hopes lessons can be learned from the investigation into the outbreak;
Schools:
A GP will determine if a child needs a Covid 19 test if they become ill at school.
The Education Minister's reassuring parents protocols are in place to deal with cases and suspected cases of coronavirus.
A principal will make contact with a parent/guardian if their child has to isolate in school.
Minister Norma Foley says until there is a positive test, school will continue and Public Health will determine the next steps:
Just over 6% of parents say they won't be sending their children back to school over Covid 19 concerns.
A new CSO survey has also found a fifth of parents have a child that's "extremely" or "very" worried about returning to class - with "catching or spreading" coronavirus the most common reason.
Two thirds say they're "very" or "somewhat" likely to avail of a Covid 19 vaccine for their child if one becomes available.
Vaccine:
Waiting for a vaccine for Covid-19 isn't a good strategy to deal with the disease, according to an immunologist.
Around 160 vaccine candidates are being explored.
One being developed at the University of Oxford is believed to be the most developed.
Professor Paul Moynagh from Maynooth University says there's a possibility no vaccine will be found:
Weddings:
Smaller venues will have to start saying no to weddings after new guidelines were introduced, according to a wedding expert.
From now on, all guests will have to wear masks except at the dinner table.
A maximum of 50 people will be allowed, including staff - while guests will have to leave by 11.30PM.
Wedding planning Tara Fay says it won't be worth it for some venues:
The late night wedding buffet is no more, from now on there will be no self service stations and canapes must be served individually.
Noel Cunningham from Harvey's Point Hotel in Donegal says the new guidelines will be particularly tough on more intimate venues:
Hospital:
The HSE CEO says the rise in Covid-19 hospitalisations is "concerning".
28 people are being treated for the disease in the country's hospitals today, with four in Intensive Care Units.
663 have been identified using the Covid-19 tracker app, with a "proportion" testing positive, which Paul Reid says highlights that it works.
The HSE Chief Executive Paul Reid outlines some details on testing over the past week:
Obesity:
Obesity increases the risk of dying from Covid-19 by almost 50 per cent, according to new research.
The University of North Carolina study has found people with a BMI of over 30 are also twice as likely to be hospitalised by the virus.
More than 815 thousand people across the world have died from coronavirus since the outbreak began.
Professor Luke O'Neill from Trinity College, says obese people are under the same level threat from the virus as the elderly:
Creches:
Childcare providers want clarity on whether to send children home from creches if they are sick.
They says there's been mixed messaging after NPHET said a runny nose is acceptable - however the Children's Ministers Roderic O'Gorman said any child with 'mild respiratory infections' should be kept at home.
Early Childhood Providers say they've been inundated with parents who have been confused with the advice.
Chair is Elaine Dunne - she says they don't to be needlessly sending children home, but also want to follow the guidance:
Lockdown:
Another national lockdown may be required the current trend of Covid-19 figures can't be turned around, according to a public health expert.
164 new cases of the virus were confirmed yesterday, with almost 60 per cent of those in Dublin and 13 per cent located in Kildare.
The National Public Health Emergency Team is meeting today to discuss the latest figures and Kildare's lockdown.
Professor Anthony Staines from DCU says restrictions could be extended to the country if the number of covid cases continues to remain high:
There's a "default notion" of bringing in lockdowns to deal with Covid-19 outbreaks, according to an immunologist.
Professor of Immunology at Maynooth University is Paul Moynagh, he says there are better alternatives to be explored:
Outbreak:
A care home employee who failed to disclose a positive Covid-19 test result has been linked to an outbreak at a Dublin facility.
According to the Irish Independent, it's understood that an elderly female resident and a staff member have been infected, while another 4 staff members are self isolating.
A major investigation into the outbreak has now been launched.
UK:
Hand sanitiser sent to UK schools and businesses don't meet World Health Organisation standards.
It's recommended to use products with 60 percent alcohol.
However, Boris Johnson's government say alcohol free gel works as well, with businesses making it saying they're complying with British standards.
Dublin pub:
A Dublin pub has shut after a staff member tested positive for Covid-19.
Slattery's in Beggars Bush says all workers are now being checked for the infection and that the bar will remain closed until further notice.
It says everyone who needs to be notified has been contacted by the HSE's Contact Tracing System.
Weddings:
Wedding guests must wear masks when not at the dinner table, under new guidelines.
Fáilte Ireland says only 50 people will be allowed in a function room and they'll have to leave by 11.30PM.
Canapes and bread will have to be served individually and guests won't be able to share salt and pepper.
Ciara Crossan, the chief executive of Wedding Dates, says very few couples will tie the knot under these rules:
Kildare restrictions:
NPHET will also consider whether the lockdown in Kildare can be lifted earlier than planned.
It's due to run until September 6th, but the acting chief medical officer, Ronan Glynn, says it may be removed before that.
The chief executive of County Kildare Chamber of Commerce, Allan Shine, says it should be lifted immediately:
Pubs:
An infectious diseases specialist is calling for pubs to be allowed to reopen next Monday.
The National Public Health Emergency Team is likely to discuss the issue at a meeting this morning, before the government makes a decision tomorrow.
Another 164 cases of Covid-19 were confirmed in the Republic yesterday.
But Dr Jack Lambert says pubs should be able to reopen next week, after being shut for over five months:
Local figures:
Six new cases were confirmed in Offaly yesterday evening.
684 cases in total have been confirmed in Westemath, Offaly has had 619 and 377 people in Laois have been diagnosed with the illness.
These statistics were measured at midnight on Monday 24 August.