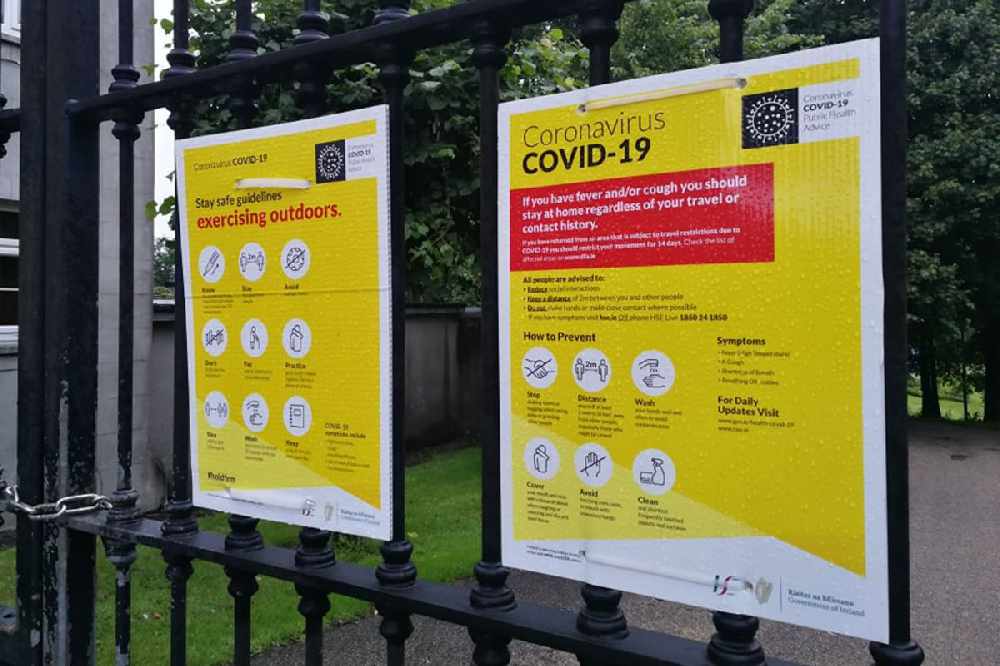 National news updates on Tuesday 20th October.
Latest Figures:
The Health Protection Surveillance Centre has today been notified of 13 additional deaths related to COVID-19.
There has now been a total of 1,865 COVID-19 related deaths in Ireland.
As of midnight Monday 19th October, the HPSC has been notified of 1,269 confirmed cases of COVID-19. There is now a total of 52,256* confirmed cases of COVID-19 in Ireland.
Of the cases notified today;
657 are men / 609 are women
63% are under 45 years of age
The median age is 34 years old
221 in Meath, 203 in Dublin, 116 in Cork, 80 in Cavan and 649 and the remaining 649 cases are spread across all remaining counties.
As of 2pm today, 312 COVID-19 patients are hospitalised, of which 34 are in ICU. 13 additional hospitalisations in the past 24 hours.
County

Today's cases

(to midnight 19OCT2020)

14-Day incidence rate per 100,000 population

(06OCT2020 to 19OCT2020)

New Cases during last 14 days

(06OCT2020 to 19OCT2020)

NATIONAL

1,269

279.3

13,299

Cavan

80

909.7

693

Meath

221

590.6

1,152

Monaghan

38

402.4

247

Sligo

27

355.5

233

Westmeath

24

336.8

299

Donegal

21

328.5

523

Cork

116

322.0

1,748

Clare

26

321.5

382

Galway

74

313.9

810

Wexford

51

296.5

444

Longford

14

278.9

114

Limerick

74

278.6

543

Kildare

61

276.8

616

Leitrim

<5

252.8

81

Kerry

28

247.8

366

Dublin

203

239.1

3,222

Roscommon

<5

229.3

148

Louth

69

221.1

285

Offaly

18

215.5

168

Laois

14

199.5

169

Carlow

16

195.0

111

Mayo

28

183.9

240

Kilkenny

15

167.3

166

Waterford

22

154.9

180

Wicklow

12

123.6

176

Tipperary

10

114.7

183
Weddings:
People planning a wedding this year, and many hotels, are looking for clarity on whether guests can travel outside of their 5km limit.
The Taoiseach last night appeared to suggest guests can travel to a wedding, however venues and brides today say they have been told people can only attend if it's in their county.
In level 3 it was the case that the couple getting married can leave the county, but not guests.
Hotels say they're seeking clarity, and this bride - Orla - who is from Kildare but planning to get married in Dublin next month says she will have a back up plan:
R-Number:
The Taoiseach has said getting the reproductive rate of the virus consistently below one is the target of the new lockdown.
The exit strategy involves getting the R rate as low as 0.5 if possible.
Some tweaks have been made to the plan this morning including increasing the number of people who can attend a funeral to 25.
In the Dáil Taoiseach Micheál Martin outlined what the end point of this lockdown will look like:
CMO Letter:
The Chief Medical Officer warned the Health Minister that level 5 for just three weeks could result in a surge of cases shortly before Christmas.
The letter Dr Tony Holohan wrote to Minister Stephen Donnelly following NPHET's meeting last Thursday has been published.
In it he explains that level three measures are not working and urged Government to move to level 5 as soon as possible.
Uncertainty:
The hospitality sector is in a 'very precarious' position after the Tanaiste cast doubts over whether it will reopen properly in December.
Leo Varadkar told business groups in a conference call that it's likely Ireland will be in Level 3 restrictions once the lockdown ends in six weeks time.
That would mean no indoor dining in restaurants and pubs.
Restaurants Association of Ireland Adrian Cummins says they're hopeful a solution can be found, to allow them to open up for Christmas:
Fines:
A new system of graduated fines for people breaking covid rules is being discussed by the cabinet this morning.
The measure will be used to enforce new Level 5 restrictions, which come into force across the country tomorrow night.
The penalties are expected to apply to anyone who breaks the 5 kilometre travel limit from their home, or doesn't wear a face mask in shops.
Foreign Affairs Minister Simon Coveney says the fines are aimed at making sure everyone is complying:
Evictions:
The Housing Minister says he wants to ban evictions anytime there's a lockdown.
Renters can't be evicted from their home for the next six weeks during Level 5 restrictions.
Darragh O'Brien wants that to happen automatically, any time there's a lockdown:
Trump:
Donald Trump's stood by his decision to call the US government's top scientist and his colleagues "idiots".
He criticised infectious diseases expert Dr Anthony Fauci in a phonecall with campaign staff.
His election rival Joe Biden says the comments are "unacceptable" when "thousands of American lives are being taken each week".
At a rally in Arizona yesterday, the President again implied Dr Fauci wasn't up to the job:
Heathrow:
Heathrow Airport's offering rapid Covid-19 testing for some passengers before take off.
Testing facilities have been set up in Terminals 2 and 5 which will initially screen people travelling to Hong Kong and Italy.
The service costs under 90 euro and aims to provide results in around one hour.
Morale:
There are concerns people's morale is low and patience is frayed following the latest lockdown announcement.
Psychotherapist Iseult White has these two main tips to help your mental health over the next few weeks:
Financial impact:
The second lockdown is going to cost the state around €1.2 billion in increased social welfare payments alone.
There's been a restoration of the higher, €350 a week rate of the Pandemic Unemployment Payment for those who earned more than 400 a week before losing their jobs.
Six weeks of level five restrictions will kick in from midnight Wednesday night with the likely loss of 150,000 jobs.
People will be told to stay at home and only venture beyond 5km from their homes in limited circumstances.
All non-essential retail is to close, with schools, creches and construction sites remaining open.
At the announcement last night Tánaiste Leo Varadkar defended not moving to level five two weeks ago, when he was highly critical of NPHET:
Vaccine:
China's started giving people experimental Covid-19 vaccines, despite their effects being unproven.
It's being rolled out to those at high risk of Covid-19 in the Jiaxing province.
These vaccines don't have scientific approval - but the Beijing government's still given clearance for emergency use.
Jabs are also being offered to overseas students - like Evelyn Wu, who's had two doses in the hope she can return to the UK in January:
Businesses:
Chambers Ireland's calling on government to get cash into the accounts of businesses as soon as possible.
Chief Executive, Ian Talbot, says it's vital to prevent significant job losses around the country:
Salons:
Danielle Kennedy from the Irish Hairdressers Federation says salons have been inundated with last-minute appointments since word of a second lockdown spread:
Nursing homes:
Sage Advocacy says nursing home residents and their families are 'fearful' about the prospect of losing close contact for six weeks.
Executive Director, Sarah Lennon, is calling on the government for clarity about whether families can travel beyond the new five kilometre limit for window visits:
We know the decision announced tonight to move to Level 5 will be really tough for many people. The decision was made to save lives and protect our health service so that all healthcare, Covid and non Covid, can continue. More details are available here: https://t.co/vsWf7KmwDp pic.twitter.com/qeO2FJtMPN

— Stephen Donnelly (@DonnellyStephen) October 19, 2020
Schools:
The Teachers' Union of Ireland say its members aren't convinced schools are as safe as the Department of Education claims.
The Department say public health officials are casting their net wide and finding an infection rate of just two per cent from mass testing in schools - however students aren't being tested.
The overall national average is 7.2 per cent.
But TUI president Martin Marjoram says there's serious concern over what constitutes "close contact" in a school setting:
Evictions:
Housing charity Threshold says the renewed ban on evictions should continue for at least six months.
Chief executive John-Mark McCafferty says it will give certainty to tenants struggling to make ends meet:
Job losses:
Around 150,000 people are expected to lose their jobs when level five restrictions kick in from midnight tomorrow.
Ireland has become the first European country to enter a second lockdown with all non-essential retail to close.
However, some measures are more lenient than level five was planned - with schools to stay open, 25 people allowed to attend weddings and elite sport including the inter-county GAA season allowed to continue.
People will have to work from home unless they're an essential worker, and can't go beyond 5km of their home except in limited circumstances.
Taoiseach Micheál Martin has defended the decision not to move to level five two weeks ago when first asked by NPHET: