The cost of rental accommodation continues to rise across the country.
Rents in the midlands are nearly 15% higher than this time last year.
They jumped 15.5% in Offaly to €1,338, a 15.3% in Westmeath means average monthly rent costs €1,409, and in Laois they went up by 11.4% to €1,302.
Nationally, the year on year figure is 11.7%, and represents a sixth consecutive quarter of double digit increases.
The latest Daft report shows the average monthly rent is now €1,750 per month.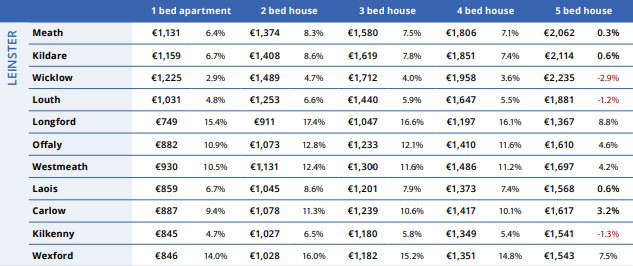 Author of report Ronan Lyons says there's a two tier renting system:

Daft.ie's latest report shows there are just over 30 properties available in the region, valued at an average cost of €1,350 per month.
A massive increase in demand during the pandemic is to blame for the price hikes, according to Ronan.
He says supply outside of the Capital is continuing to lag behind:
Commenting on the report he also says:
"The figures in this latest report offer some crumbs of comfort for those
of us gravely concerned about the health of Ireland's rental market. For over a decade now, the rental market has been characterized by worsening availability and, as a consequence, higher and higher rents."
"The private rental market has been under increasing stress over the last two years, as first society reopened after the covid19 pandemic and then the war in Ukraine led to a refugee crisis. There are some signs that, if things are not getting better, then they are getting much worse. Availability of homes to rent has stopped falling, albeit at extremely low levels, while the quarterly change in rents seen January to March was far smaller than the average increase seen in 2021 and 2022.

Nonetheless, the solution to Ireland's rental housing shortage requires significant action by policymakers. The number of rental homes coming on to the market in newly-built developments has held up in recent months but is likely to reduce in the quarters ahead, unless issues around planning certainty and viability are addressed. Ultimately, policymakers must have a clear plan on how tens of thousands of new rental homes will be delivered this decade in all major towns and cities."